A three-star safety rating
SAFETY
A three-star safety rating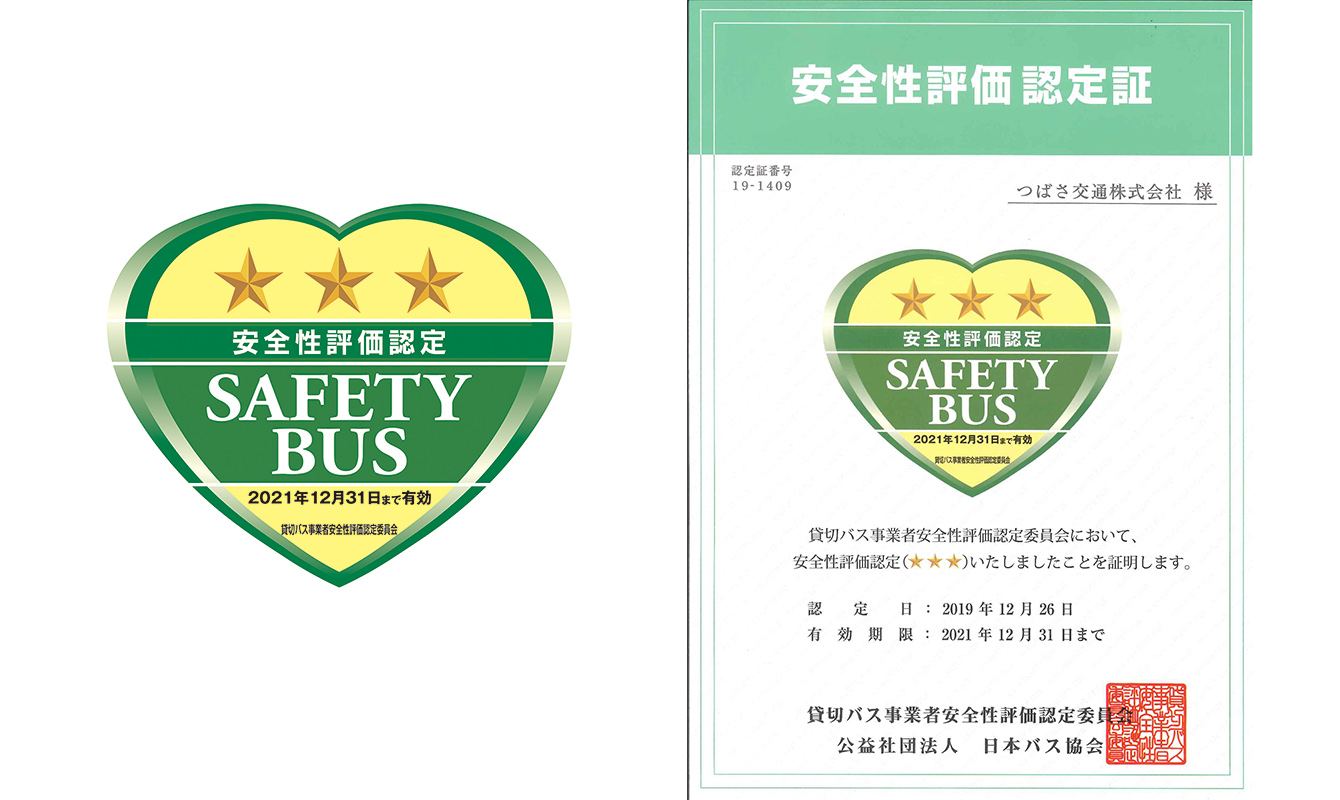 Strict safety standards are established at Tsubasa Transport, and the company is thorough in how we carry out management and guidance, in order to adhere to these standards.
In accordance with the purpose of the 2014 revised Road Transportation Law, with the adoption of dashboard cameras and digital tachographs, naturally, and with plans for the adoption of lane deviation-prevention devices and a wireless GPS vehicle management system, etc., efforts are being made to ensure security and stability as a bus operator. Additionally, the company proactively participates in the Charter Bus Operator Safety Rating Certification System, which is recognized by the Nihon Bus Association. In November 2014, we obtained a two-star rating, and continue striving to be selected by passengers and travel companies as a bus operator of a higher level of safety. In the content that follows, we will discuss some of Tsubasa Transport's efforts that relate to safety and stability.
Bus
safety and security
Bus safety inspection
Drivers carry out an inspection before starting their work, with a maintenance manager determining if operation is advisable or not based on the results of this investigation. When a driver operational change has taken place, a vehicle safety inspection is carried out when taking breaks at service areas after operation is taken over, including checking vehicle conditions.
Safety and

security while on duty
Safety checks while on duty
Upon leaving the office, operation managers without exception conduct an in-person rollcall, checking for the presence/absence of abnormalities with the vehicle, the road and weather conditions, as well as conducting alcohol checks and personnel physical conditions checks. Similarly, midway through operation and upon the end of operation, strict safety investigations are also conducted when vehicles leave their storage location. We also work to ensure sufficient and satisfactory bus equipment, and to ensure operational safety and the protection of personnel via the equipping of dashboard cameras. The company also strives for safe operation management and operational optimization while on-duty, via the use of a digital tachograph, etc.
*In transport regulations, drivers and conductors are referred to by the general term "personnel."
Safety and

security during operation
Service route
During rollcalls, written operation instructions are given to personnel. At this time, an operation manager checks the route instructions, the road congestion conditions, and the rest areas. The personnel then operate services in accordance with those written instructions. Even in the case of a change in route due to congestion, for example, a system is prepared where mid-operation personnel can immediately receive and respond to instructions from operation managers at the office, doing so via a GPS vehicle management system. Through this, progress is made in our efforts to improve services for customers. Additionally, we also conduct efforts to increase safety, such as supporting drivers with lane-deviation prevention devices so as to prevent accidents, and instructing personnel planning to work for over two hours to take a break for at least 15 minutes.
Driver

safety and security
The number of drivers
Tsubasa Transport has established our own standards that exceed legal ones. The company endeavors to provide services with greater safety by having two personnel during nighttime services and longer distances in ordinary service, doing so due to our own independent standards.
Usage information
Will you join us in continually taking on new challenges, facing the coming future?
Email inquiries
Free quotation